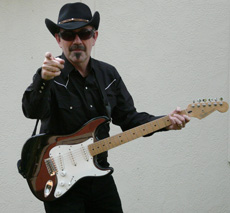 Little is really known about Tex Zimmerman. In his own words:

"I was born in Smith Center, Kansas (the geodesic center of the US) but grew up in the hill country of Texas. After high school I traveled and worked a variety of jobs: washed dishes in juke joints in and around Austin, scrubbed vats in a pickle factory in Joliet, dealt blackjack in Oklahoma casinos, and worked as an usher at the Grand Ole Opry in Nashville. In 1976 I started working as a "roughneck" on oil rigs in west Texas. In '86 I started my own company and by '01 I was a millionaire. I retired at fifty and put my life's savings in mortgaged backed securities. Buy 2007 I was broke, despondent and sleeping on a friends couch. 'I was scrounging for my next meal, like a complete unknown, no direction home...' To fill my days I listened to the music of Bob Dylan. One day this lyric caught my ear:

'Well, my ship's been split to splinters
and it's sinking fast.
I'm drowning in the poison,
got no future, got no past.
But my heart is not weary,
it's light and it's free.
I got nothing but affection
for those who've sailed with me.
Everybody moving,
if they ain't already there.
Everybody got to move somewhere
Stick with me baby,
stick with me anyhow,
Things should start to get interesting
right about now...'

Saved my money, bought a used Fender Stratocaster, spend my waking hours practicing and looking for like-minded musicians who share my passion. It is now my mission to bring this music to others. I'm livin' the dream."

Experts suspect that Tex's personal story is largely invented and differ widely in their view of the basic facts. Some say he was raised in Minnesota, worked for many years as a lobyist in Washington and spent the last two decades in a federal prison doing time for white collar crime. They speculate that he learned to play the blues and the guitar in various minimum security facilities. While critics note that his voice and guitar skill are average all agree that he has an ear for talent and has assembled one of the hottest bands in the North Texas area. The Tex Zimmerman Revue ably masters the various styles in the Dylan songbook. This band rocks.